Friday Night Shows | Instructor's Dance Demos | Open Dancing | Showdown 2005

2003 LineDance Showdown
It's all about dance!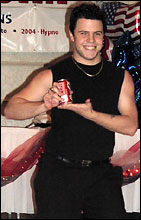 Another incredible Linedance Showdown was held February 17th - 20th, 2005. This year the Showdown was back at the original location, the Sheraton Ferncroft in Danvers, MA (YES!) and it was just the best time ever! We are still recovering from all the dancing, dancing, dancing ... and the late hours. The instructor line up was awesome and there was something for everyone; low impact and high, country or progressive, easy to advanced. A number of local instructors made their Showdown teaching debut keeping the beginner dance room hopping. All our favorite instructors were here, teaching their newest dances as well as other favorites from choreographers from around the world.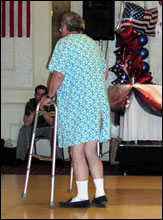 My favorite picks of the weekend were Guyton Mundy's Lose It and Sum'm Sum'm, Bryan McWherter's Get On That, Envious taught by Scott Blevins as well as his dance What It Is. I think I finally got that one! These dances were popular, but everyone you talked to had their own list of favorites from the weekend, there were so many good ones. My husband stayed longer than he planned to on Sunday to learn Michelle and Alana's new dance "Holla" which took a first place in the choreography competition, and was glad he stayed.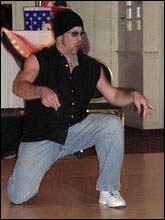 The Showdown on Saturday night was AWESOME! It's amazing how different the performances are each year. Bob Grundy had us all rolling on the floor laughing with his peeking open hospital gown and walker routine, I haven't laughed that hard in a long time. Hypno did an awesome bus stop routine, but he is always awesome. Guyton's routine of his rise to "fame" as a linedance instructor was a hoot (and we thought he should have won).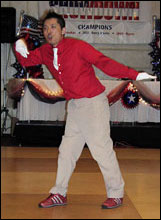 Cody performed a sometimes funny, sometimes bittersweet memory piece of the previous Showdowns and his past year, and announced he would not be performing at the next Showdown. Barry Durand entertained us with a look back at a full life though dance and showed what a multi talented performer he is. Diva performed a fun Elvis piece and Christopher Petre brought a pure country flavor to the competition with his routine. Barry Amato celebrated the entertainment capitals of Broadway, Hollywood and Nashville in song and dance, and showed his incredible talent. Brian Barakauskas won with his high energy routine and demonstrated why he is a Superstar.
Best of all was the camraderie, dancing and lessons with some of the best dance instructors in the world, and the very best DJ, Louie St. George!. Thank you Jason, Jen and everyone involved for giving us a first class dance event! Count us in for next year!